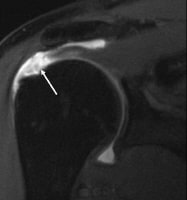 Not my shoulder
I went to the orthopedist yesterday (I know, I'm just falling apart, right?) to get the results of my shoulder MRI. I have a torn rotator cuff, arthritis and some other thing that he described about my collarbone and shoulder bone that all need repair.
So, on December 5th, I will be having surgery. I thought it was going to be a quick procedure like my knee surgery that I had a few years ago, but no such luck. It will be a two hour surgery, but fortunately, I won't have to stay overnight in the hospital. I will be having physical therapy starting three weeks after the surgery and will need to have my arm immobilized in a sling for 6 weeks, with no reaching or lifting anything. I'm right handed and of course it is my right shoulder...
Not the best way to get ready for Christmas, but we are downsizing a bit (no Christmas open house this year).
I am so grateful that I have health insurance and that this is all fixable.
I will be glad to have it done as my shoulder has been hurting me for quite a while.
Boo hoo. Off we go on another medical (but thank God, not serious) adventure.